Smoke & Fire Curtains
Compliant with all relevant BS, EN and UL standards, our smoke & fire curtains are used to prevent the movement of smoke and heat from one area to another when a fire breaks out. The systems comprise of a heat / smoke resistant fabric curtain which coils around a metal tube over the opening.
Various configurations & ratings are available, please contact us for further information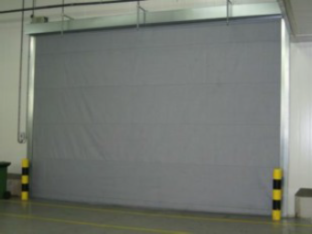 Operation
Designed to close in the event of a fire, once triggered, the fabric curtain closes and seals the opening. The two most common methods of operation are Gravity Fall and Motor Driven.
With Gravity Drive the curtain drops under the force of gravity in a controlled manner to the fire operational position in a fail-safe manner. With Motor Driven curtains, closing is controlled by a small motor which is connected to the Fire Alarm System.
Options
Smoke / Heat Detector
Solenoid Release System via Alarm Panel Signal
Audio Visual Warning
Two Stage Closing